Where there is great love there are always miracles. It makes life more interesting and meaningful. The story below told about a dog missing for three months who was reunited with her owners after being rescued from a remote Vancouver Island cave by a couple of surfers.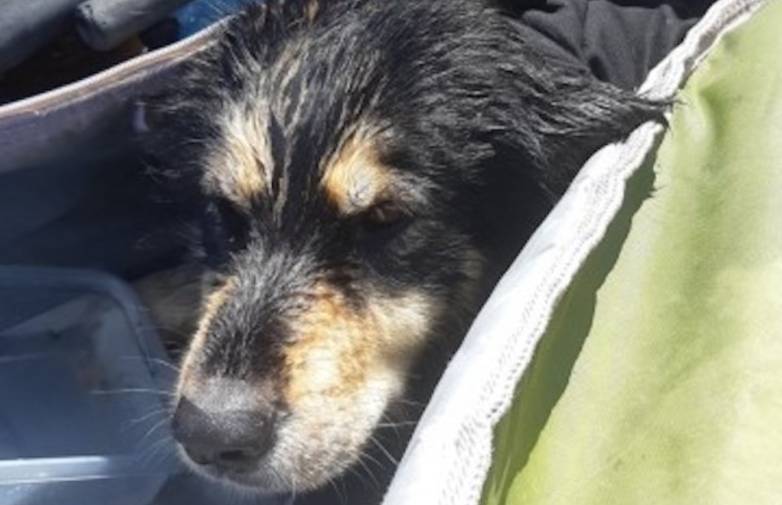 Matty Johnson and Zach Regan were on an overnight surfing and fishing trip near the Juan de Fuca trail on Vancouver Island, British Columbia when they spotted an animal on the shore. The pair were in their boat near the shore at Magdalena Point on August 8, 2020. Regan was looking at the caves along the shoreline when he saw something move.
He told CTV News, "Just glancing in the caves as we were going by, I saw tan legs walkout, just a glimpse, and I thought, 'Oh that looks like an animal,'" said Regan.
They soon discovered it was a dog. The poor dog was stuck in a cave located in a rough section of the popular hiking trail. Regan explained, "It was evident that she couldn't escape, she was stuck in this cave and little beach area."
Johnson and Regan could not see any other humans in the area so Johnson put on his wetsuit and paddled over to the cave from their boat. He coaxed the distressed dog over to him.
Getting the dog onto the surfboard was another matter, but Johnson managed to one-arm paddle with the dog as Regan drew the boat nearer and grabbed the dog onboard before "she sank to the bottom because she was so weak."
They put a life jacket on her and wrapped her inside a surf bag to keep her warm before heading to shore.
Once on shore, the friends made sure the dog was bathed and fed. They contacted Leslie Steeves, the founder of Reuniting Owners with Animals Missing (ROAM), for help in locating the dog's family.
As soon as Steeves heard where and how the dog was rescued she marveled at how the dog survived in such rugged terrain. She knew Johnson and Regan had saved the dog from certain death. But she was even more shocked when she discovered just how long the dog had survived.
Steeves immediately began to search for the dog's owners and within a day of CTV News airing the story, Steeves received a call. It was the dog's owners. It turns out the dog's name is Stella and she went missing three months ago (on May 2) when a couple was on their honeymoon. They were on a hike with their dogs when Stella vanished, Steeves explained. They searched for a week but found no trace of Stella. They were overjoyed that Stella was still alive.
As for Stella's rescuers, they were shocked and delighted that her family was found.
"It blew my mind I, couldn't comprehend it," Regan told CTV News. "She [Steeves] was in shock too. As she was talking I was like, 'How is this possible?'"
Regan arranged to return Stella to her family and he said Stella "perked up 10 times more than she did this morning" when she spotted her family.
Source: reshare worthy