Mopsy was living on the streets in an industrial area when she gave birth to three tiny puppies. The little family took shelter in a fenced-in area near some power lines, and the puppies often played and slept under a pile of pipes. Eventually, someone noticed the family running around in the rather unsafe area, and immediately called for someone to come and help them.
Hope for Paws found out about Mopsy and her puppies and quickly drove out to where they'd last been spotted. As soon as they arrived, they saw a couple of tiny puppies running around …
… with mom trailing close behind them.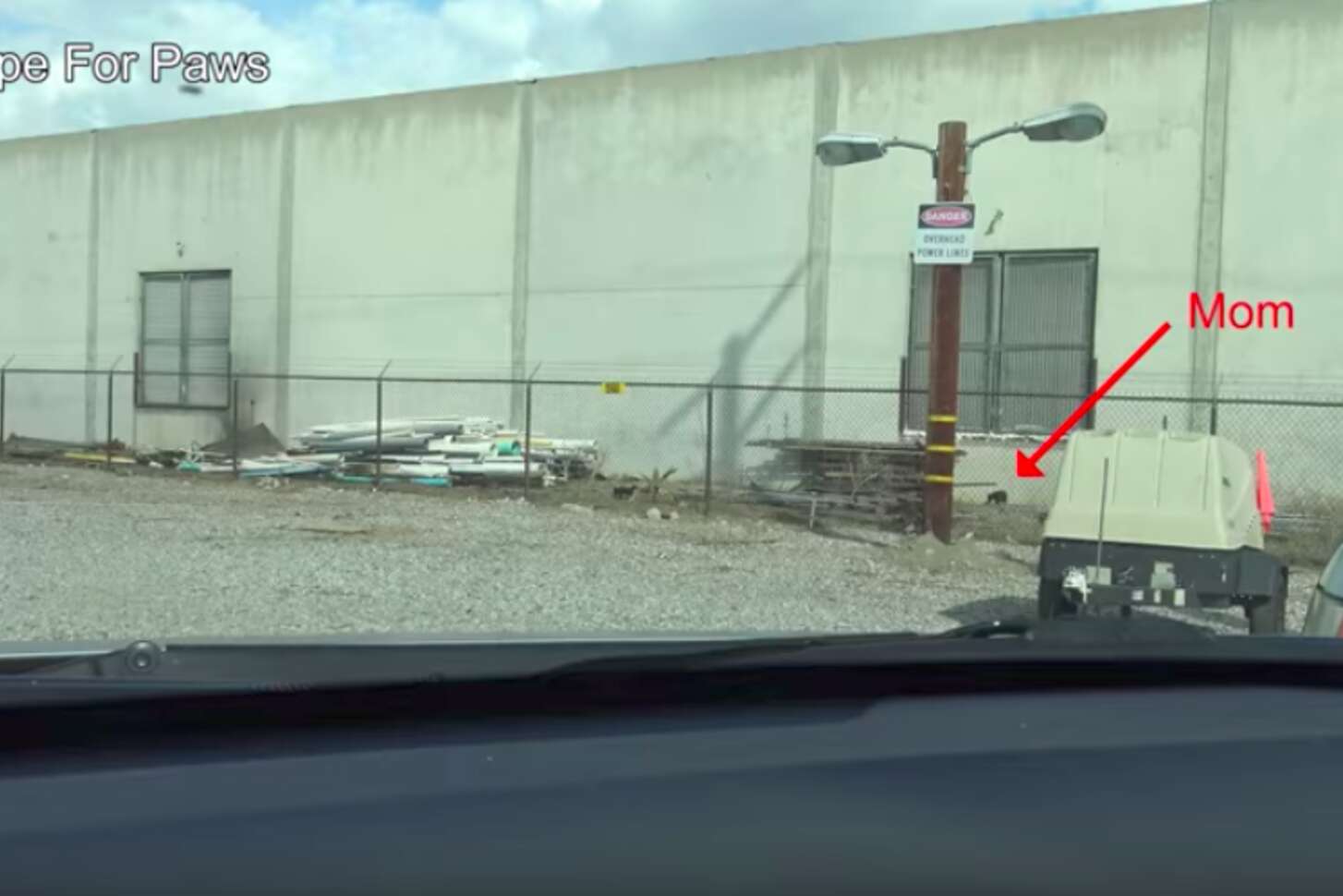 Rescuers tried to toss some food through the fence, but the puppies didn't seem to notice and the mom was not at all interested, focusing instead on keeping an eye on her puppies.
Rescuer Loreta Frankonyte was able to crawl under the fence, and together she and Hope for Paws founder Eldad Hagar worked to ensure that the area was completely closed off and that there was no way the mom or her puppies could escape. They knew it would be smart to secure the mom first before grabbing her puppies …
… but unfortunately, as soon as Mopsy saw her rescuers, she got scared and tried to run away, and somehow managed to escape from the fenced-in area.
The mom ran for quite a while, but rescuers made sure they never lost sight of her. Finally, she stopped to rest in some bushes …
… and Hager and Frankonyte were able to work together to finally catch her.
As soon as Mopsy was safe, the rescuers went back over to where her babies were, only to discover that they had crawled under the huge pile of pipes, making themselves completely unreachable. In order to get to them, rescuers had to spend half an hour removing the pipes …
… until finally, they were able to see the puppies hiding in some crates underneath.
Rescuers were able to carefully remove the puppies from the crates …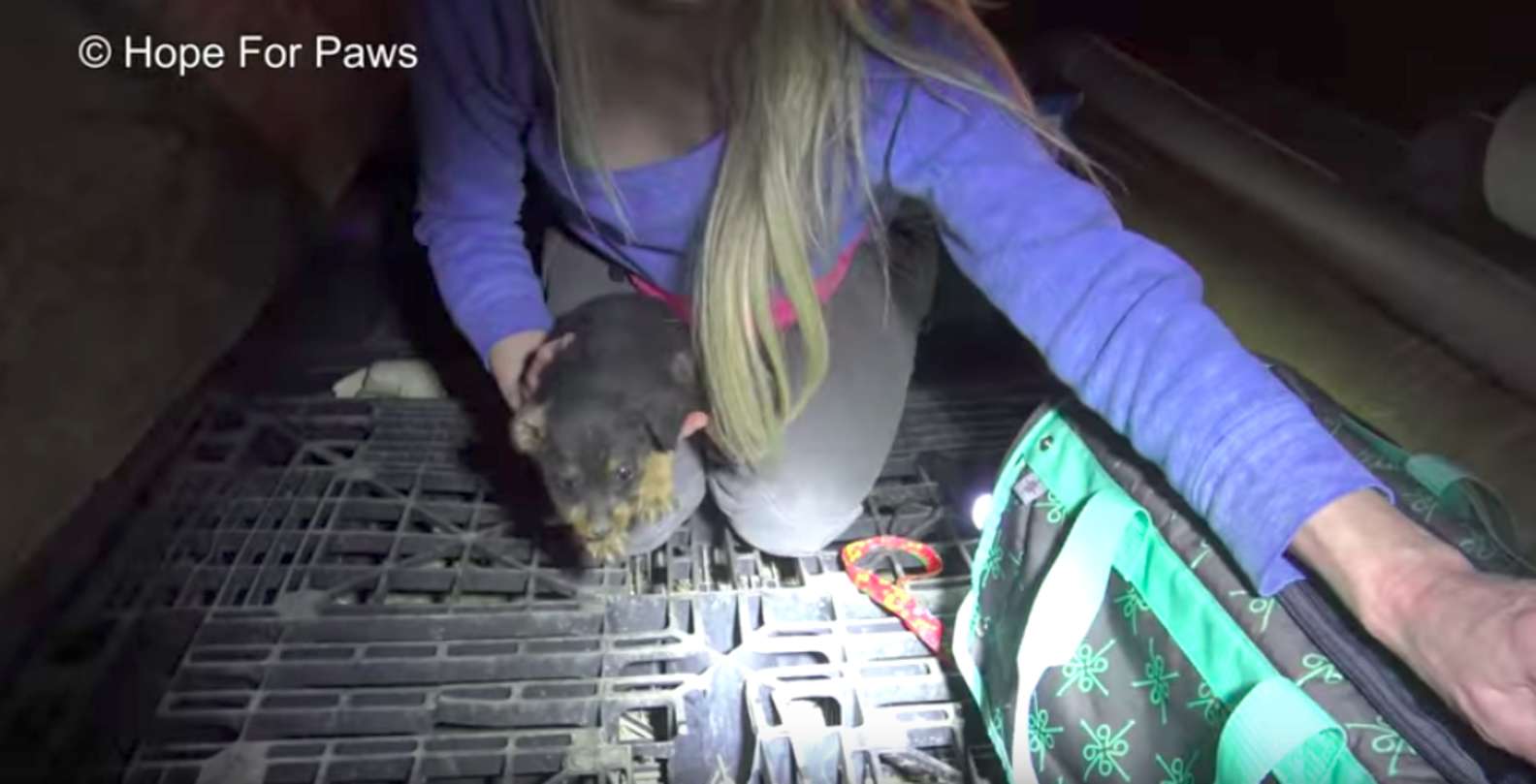 … and then reunited them with their mom, who was SO happy to see them again.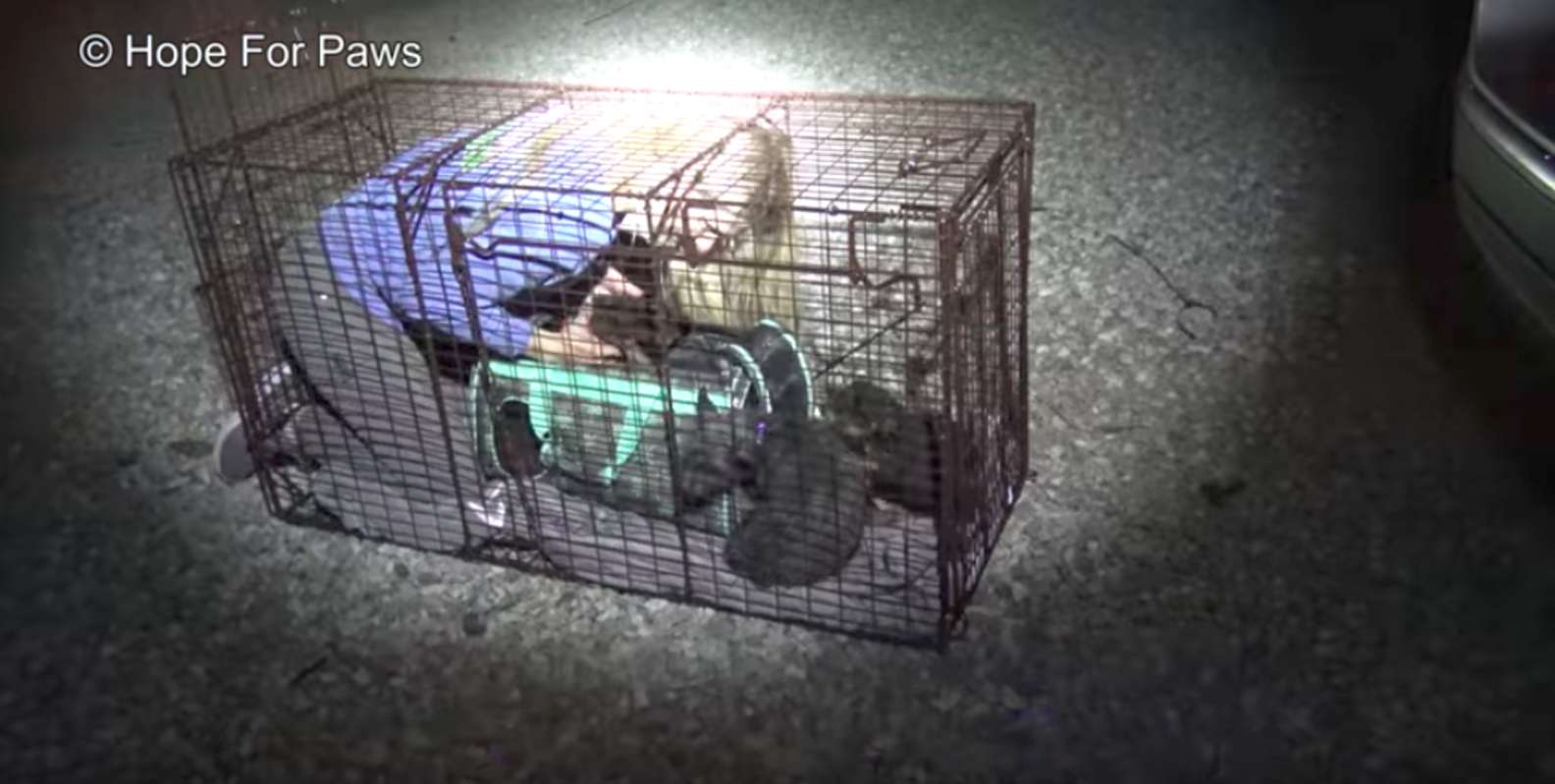 All four dogs were taken to the vet, where they were checked out and found to be in pretty healthy shape. Rescuers decided to name the three puppies Figaro, Jiminy and Juniper. Once they were all cleaned up, the whole family was given a comfy place to sleep together …
… and Frankonyte decided to join them for a quick nap as well, exhausted after spending six hours attempting to rescue them.
Mopsy and her puppies were taken in by Much Love Animal Rescue, and before long, little Figaro was adopted into his forever home. Mopsy, Jiminy and Juniper are all still searching for families to love them, but until then, they're loving life in their foster home, overjoyed that they're finally safe.
Watch the full video of this rescue below:
If you're interested in adopting Mopsy, Jiminy or Juniper, you can contact Much Love Animal Rescue for more information.