After their dog of nine years passed away, adopting another dog — let alone two — was the last thing on the Birster family's mind. But that quickly changed once they saw a photo of Bonnie and Clyde, two bonded pit bulls being housed at ACCT Philly — and learned that the bonded pair could soon be separated.
"[They] were a bonded pair of dogs surrendered by their owner in March 2014. The day after they were surrendered to the shelter, our own dog of nine years passed away. It was the worst time of my life and my husband and I were destroyed," Kathryn Birster told The Dodo. "He was not just our dog, he was our child. We were absolutely not looking to adopt again any time soon."
A week later, Birster saw the photo of Bonnie (mostly white with spots) and Clyde (brown and white) for the first time on Facebook.
The Facebook post noted that the dogs were in paired housing and waiting to be adopted. There was a lot of interest in fostering or adopting Clyde but not a lot of interest in Bonnie.
"I was watching all of this play out on Facebook and my heart was breaking all over again that these two who clearly needed to be together might be separated," Birster said. "I sent the photo to my husband, and we talked about it for a few days." Something stirred in Birster when she began thinking about how these two dogs, who clearly loved each other, might lose one another.
Bonded pairs are often difficult to adopt out, according to the Kentucky Humane Society (KHS). "Most people come into the adoption process planning to adopt one pet," Angie Durgasingh, customer care manager at KHS, said. "It's rare that someone comes into the shelter planning on multiple adoptions. That makes a bonded pair more challenging to place."
After much deliberation, Birster and her husband decided to start taking the first steps. "Many more tears and a call to our vet — who assured us we weren't disrespecting the memory of our recently deceased dog — later, and we went on March 14 to meet them."
The Birsters connected immediately with Bonnie and Clyde. It was as if they all needed each other. "After spending some time with them, we knew we couldn't leave them behind, and we (tearfully) completed the adoption process, bringing them home that night," Birster said.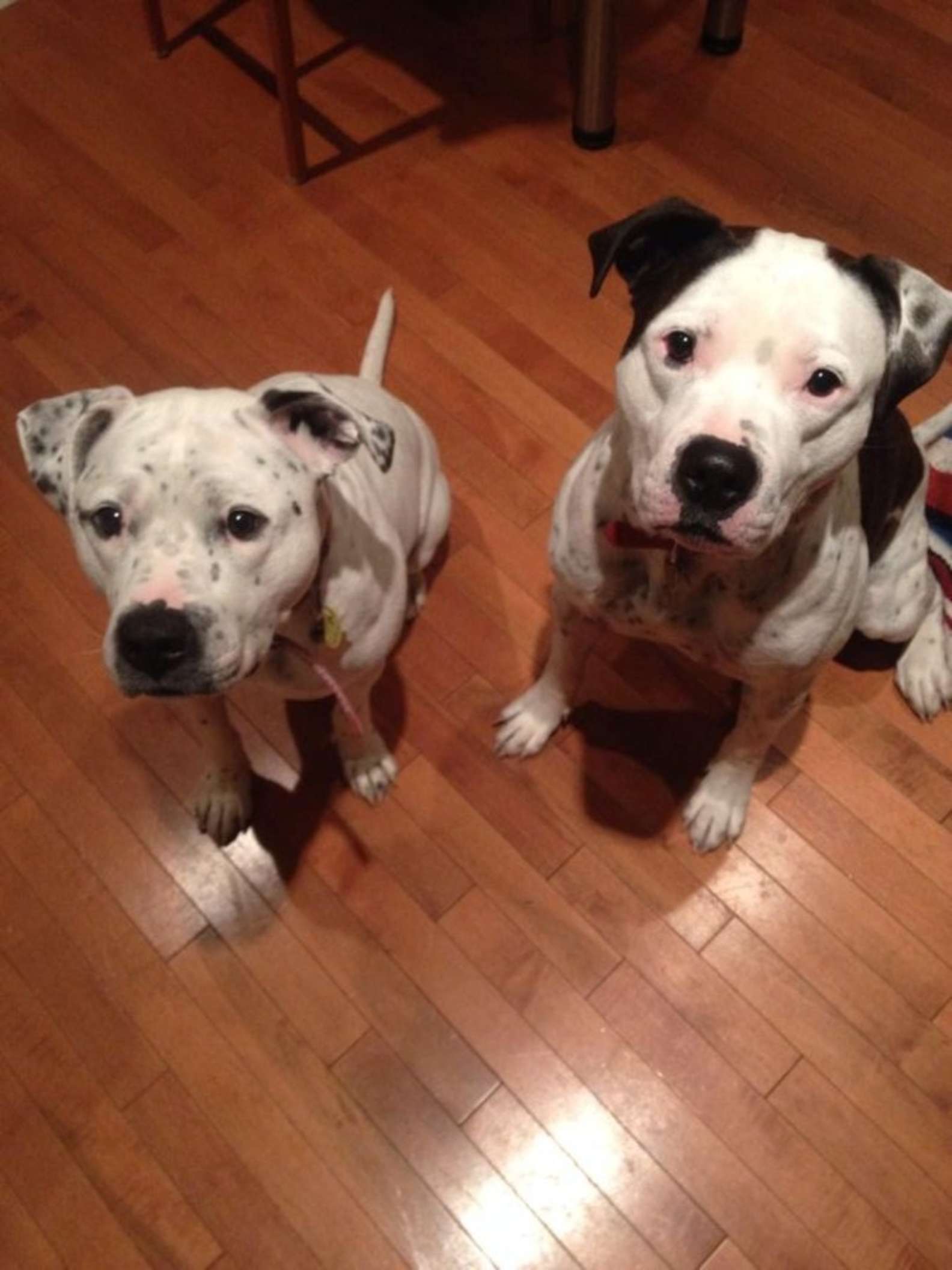 Birster says the dogs were beyond excited to be out of the shelter. "They were SO happy to be back in a home again! And we, who had never had two dogs at once, were not sure what to do with our energetic duo, but we soon settled into a routine."
One of the first things they decided was to change their names to Nina and Gus — the pair had been surrendered as Nina and Boss, but had their names changed in the shelter. "Since they were already 4 and 3 years old respectively, we kept their [original] names (or close to it)," Birster explained.
It quickly became clear that she and her husband had done the right thing by adopting the two dogs together. "I know now that Gus would have been a complete wreck without Nina. She's his comfort and his grounding. If he'd been adopted or fostered without her, he would have always, always been searching for her."
Similarly, she explained, life would have been so sad for Nina if she'd lost Gus. "Nina's a bit more independent, but she would have lost her play companion," Birster said.
"It was 1,000 percent worth it for us to keep them together," she added. "And my husband and I are completely in love with them and can't imagine life without them!"
Life has been a joy ever since for Birster, her husband, and Nina and Gus. The four couldn't be happier. "They're now 7 and 6. They go running with us, hiking, and we're constantly trying to figure out new puzzles to stump them because they're both so smart," Birster said. "They're really fun and funny and have different personalities, but they absolutely go together and are a pair."
To keep up with their adventures, you can follow Gus and Nina on Instagram. You can also help save more animals like Gus and Nina by making a donation to ACCT Philly.
Source: The Dodo