These 20+ Hysterical Moments When Cat's Settings Crashed Will Certainly Cheer Your Day Up
Cats get treated like royalty and have a staff to look after their every need. That is why they have a raised level of status in most loving homes. Although they are prideful and independent creatures, they sometimes really go crazy. In that case, I will go far away unless I wasn't afraid of angering these fuzzy roommates. They are truly the king of the castle.
We're sure these "glitches" happen to cats really often, and you'll believe us as soon as you see the consequences. Scroll down to see and please share them with cat owners.
#1 "OMG, what's on my head?!"
Credit: OysterDoll
#2 He's so independent that he doesn't even need a box to sit in.
Credit: DV123
#3 A secret dance school for cats
Credit: ccchisa76
#4 "Once I brought a box of catnip home. My cat jumped inside of it and sat there all day long. In the evening, I found him on the balcony like this."
Credit: Frozen992
#5 "I have nowhere cozy to sleep so I'll just waste the toilet paper."
Credit: Pogo138 
#6 You lost this fight.
Credit: Reddit
#7 Those chasing dreams…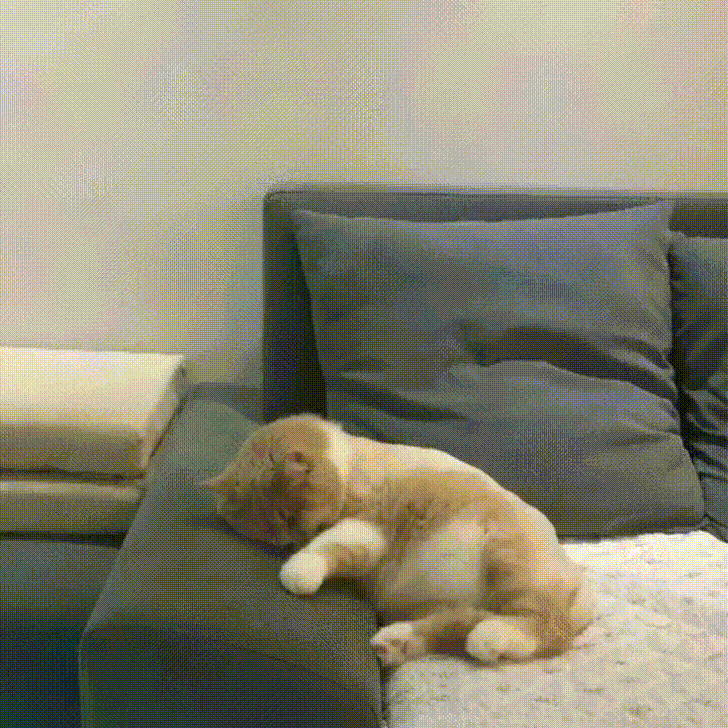 Credit: Imgur
#8 "My silly but cute cat."
Credit Antharas
#9 This cat can turn into a ballet dancer.
Credit: Pu-Chi-Mao
#10 "My cat figured out how the fridge works and now he always drinks cold, fresh water."
unknown
#11 "This is Makoli. He's… different."
Credit: Imgur
#12 "My cat powers up his attacks."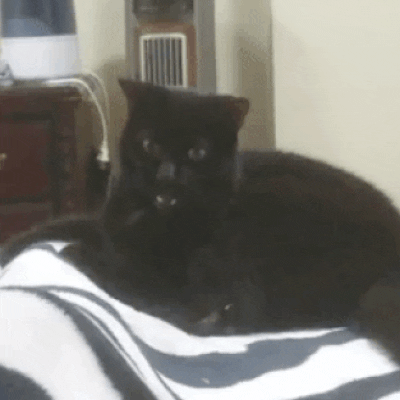 #13 "Took my indoor cat outside today. I think the grass has broken him down."
Credit: Imgur 
#14 It's time to build nests.
Credit: urbinsanity
#15 When you create a perfect plan for world domination but get caught:
Credit: Imgur 
#16 "I. Shall. Get. In."
Credit: afmachado
#17 "I came out of the bathroom in a shower cap and she didn't know who I was."
Credit: kingthirteen
#18 Catapulta!
Credit: ApeCommando
#19 In his dreams, he's a small stream at the foot of Mount Fuji.
Credit: icant-chooseone
#20 When you just want to get warm:
Credit: TheWestLady
#21 The way we look when someone takes a pic of us without a warning:
Credit: famicum
Dog Refuses To Leave Construction Site Where She Last Saw Her Family
According to a dog rescuer named Suzette Hall, abandoned dogs stay waiting for their owners to return, while lost dogs wander around.
As a group of Good Samaritans informed Hall, that the dog had been hiding under a construction sign beside a busy road for three days, Hall was aware it would be difficult to catch the canine. Aside from being in a tricky spot, the puppy didn't want to be taken from the place where she hoped to reunite with her family.
Source: SUZETTE HALL
Hall said that the dog was so terrified of people. "People would try to go sit with her or walk past her with their dogs, and she would just bark at them", Hall added.
It was still possible for some neighbors to assist in the rescue effort even though they could not approach the dog directly. The neighbor who offered to make hot dogs for Hall as bait was one such neighbor. Despite the fact that the trap contained warm hot dogs and no food, the dog refused to go in.
Source: SUZETTE HALL
In the end, Hall decided to leave the trap at the construction site overnight and try again early the following morning.
The puppy was exactly where the rescuer had last seen her when Hall arrived at the construction site the following morning, but something wasn't right. The area was calm this time, and the dog appeared less frightened.
Source: SUZETTE HALL
"I freshened up the trap and pretended I was leaving," Hall said. "I drove down the street, and then I saw her get up and start circling the trap." When Hall drove back to the construction site, she found the dog safely in her trap.
Source: SUZETTE HALL
Hall recalled that after she freed Bella from her trap, she was so terrified. Despite the fact that she looked cold, Bella was so kind. "So I spent a lot of time with her just loving her and rubbing her," she said.
The dog was then taken to the veterinarian, where a separate, calm space had been created just for her to rest for a few days. And, together, they gave the dog a name that suited her. "We named her Bella," Hall said. "She just looked like a Disney princess to us."
Source: SUZETTE HALL
As soon as Bella realized she was safe and loved, she began to come out of her shell. Bella's foster parent is a kind vet tech, so Hall is confident that Bella will flourish there and eventually find the happily ever after she deserves. "That little construction sign doesn't have to be her home anymore," Hall said. And she no longer needs to wait.
If you are touched by Bella's loyal story, let her story be spread to the community.
Best Wedding Crasher Ever! Stray Dog Broke Into A Wedding And Got Adopted By The Newlyweds
We have heard tons of heartening stories about brides and grooms with their pets. Since these adorable creatures have been their family and closest buddies, it is not weird anymore to have them be bridesmaids and groomsmen or invite them to the celebration as honorable guests. It is proof that affection and compassion can take any form and spread through any kind of species, which makes the belief that every living creature can love and be loved.
Today we would like to bring up to you a delighting wedding souvenir with an expecting canine guest's appearance, which we ensure won't waste any second of your time on reading.
Source: caramelodejesus
It took place in Brazil. A lovey-dovey couple, Tamiris Muzini and Douglas Vieira Robert, were having the time of their lives and forming their fateful bonding. From nowhere, a yellow-brown short-haired dog arrived and sat at the entrance of the church. He remained at the spot no matter what waiting for the sacred ceremony to finish. Then, he welcomed the new wife and husband with his warmest tail waving and two-leg standing hug.
Xem bài viết này trên Instagram
He was so charming that everyone at the wedding put all their attention on him and the host had to temporarily move him away so that the couple could get back their spotlight. Amazingly, the bride found him somehow sneaking into her vehicle. That was when she was sure that he was a heavenly blessing gifted on her wedding day.
Source: caramelodejesus
Source: caramelodejesus
Unfortunately, they found the dog strayed and homeless with one of his legs injured. Plus, the couple couldn't see him anymore after the night party. Therefore, the next day, they uploaded a photo of the dog on the network to have people help to find him. In the end, the dog was adopted, medically provided, and given the name Braiá Caramelo de Jesus.
Source: caramelodejesus
Source: caramelodejesus
The marvelous story soon went viral on local animal rescue's Instagram channel ongpramia. The couple also created an Instagram account for their new furball: caramelodejesus. It had reached more than ten thousand followers just in three weeks. Everyone in love with Caramelo was waiting for his update and pictures every day. Right now, our main characters are enjoying life and treasuring every moment together with love and laughter.
Source: caramelodejesus
Source: caramelodejesus
Could you tell us how you feel about Caramelo? Do you have any idea for a future canine best man or a feline maid of honor? Please leave your comments to let us know and don't hesitate to give this sweet story a like icon along with a share!
Pregnant Woman Gets Reported To The Police By Neighbor For Being Suspected Of Mistreating Her Dog
It is so far beyond our imagination how delusional gossip can be. In our pet lovers' world, we assume there won't be critical and damaging rumors about our little furbabies. People can gossip about this lady's strange lizard clothing or that man's obsession with his turtle. Everything seems very fine until someone oversteps the borderline, and gets the law enforcement agency involved. Then, the unfounded suspicion becomes nuclear and breaks the neighborhood into pieces. It is what should be learned from a woman with her Reddit account name u/No-Abalone4276. If you are curious now, let's keep scrolling down for the whole situation!
Source: k9uchicago (photo used for illustration)
The original poster pinned her story on the viral subreddit r/AmItheA**hole to tell people about a next-door young couple. She had always noticed they had a small dog and walked him out daily once or twice. However, she hadn't seen them doing it for the past two months but letting the dog play and scramble alone on their patio, so she concluded the couple was tired of the pet and starting to abandon him. She asked them about it and got refused to be answered.
Source: u/No-Abalone4276
Then, the OP called the authorities to report the neighbor couple for animal abuse. After the inspection, the police closed the case without any charge or accusation. Not accepting the police's conclusion, the OP kept her ears around and found that the next-door girl was pregnant. Unfortunately, she also learned that everybody in her building was disgusted and badmouthing her.
Source: u/No-Abalone4277
In the comment zone of the pinned post, Redditors can't help entitling her so poorly. They expected her to be the mean female character from the book series "Harry Potter" who loved to stick her nose around and exaggerate everything without any good intention. They suggested she should offer help if she thought the dog might need it or find a hobby such as books, knitting, cooking, et, in case she had too much idle time in her hand.
Source: r/AmItheA**hole
Source: r/AmItheA**hole
Source: r/AmItheA**hole
Source: r/AmItheA**hole
Plus, Reddit pointed out the public authorities weren't established to deal with nonsense people's baloney. The OP might have called them when she was angry for being ignored, but after all, it was totally a waste of their precious time and people's tax since the police could have used them for a worthier case. Also, they accused her of being overly curious, which violated others' privacy. Because of it, she deserved to go through people pointing fingers at her and she'd better learn her lesson from it.
Source: r/AmItheA**hole
Source: r/AmItheA**hole
Source: r/AmItheA**hole
Source: r/AmItheA**hole
What a bizarre neighbor! Have you ever had to deal with similar situations? Please write them down in the comment section below if you feel like sharing your stories! Finally, don't forget to give us a like icon and follow us to read more! We're waiting to see you again!