A furry little "parcel" of sorts is safe and in good hands today, all thanks to a kindhearted delivery driver who refused to let her be lost.
Jason Harcrow, who works for the UPS in California, was out making the rounds on Tuesday when he saw something unimaginable. A car had stopped in the road in front of him and its door opened. That's when the person inside dropped a tiny, helpless puppy right in the middle of the street and drove away.
Fearing the dog would be killed, Harcrow leapt into action – swooping her into his arms before she ran into traffic
Unfortunately, the person who dumped the poor little pup managed to escape before Harcrow was able to write down the vehicle's license plate number, but at least the puppy was now safe.
Harcrow then took her to a Hughson Police Department substation, where she was picked up by animal services, who are now readying to find her a new home.
"The puppy is in great spirits and will most likely be up for adoption at Stanislaus County Animal Shelter," Hughson Police wrote on Facebook.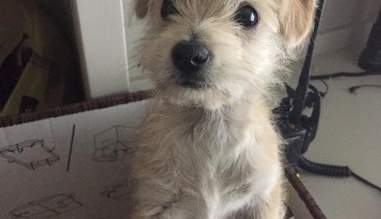 Being on the clock, the delivery driver hadn't stuck around long enough to give his name to police – but fortunately, after the story of his good deed appeared online, Harcrow's coworkers were able to identify him as the hero.
"We're very proud of him," UPS supervisor Jessica Lafferty told the Modesto Bee. "He's a very good guy."
The pup he saved no doubt agrees